10 of the best special-occasion restaurants on Phuket
Wine and dine at the island's top upscale eateries
Phuket, Thailand's Jewel of the Andaman, is packed with amazing foodie experiences, covering everything from southern Thai food to Peranakan food, exquisite seafood to classic Chinese street food. Here, we've stepped away from the incredible low-key
classic institutions
to roll out some of our favorite upscale dining options. Tuck in!

Part of The Slate Resort, this modern Thai restaurant is set impressively over a lagoon and is reachable only by boat. It's worth the effort not only for the atmosphere but also chef Anongrat Meklai refined updates on traditional recipes like laab pla (a herbaceous salad made with grilled barracuda fillet) and the crab meat curry made with fragrant cha-plu leaves, which burst with complexity. The sharing set at B1,200 per person (around US$40) is highly recommended.
Black Ginger, The Slate, 116 Moo 1, Sakhu, Thalang, Phuket, 076-327-006. Open daily 3-8pm.
This sleek, urbane restaurant combines top-shelf local and imported ingredients in a menu littered with well-presented, modern-European fare. Here, wild mushroom tagliatelle sits alongside whole Andaman seabass and the Brit-indebted fish pie complete with parmesan crust. House cocktails like Phuket Island Iced Tea add local inflections, while the wine list is lengthy and especially diverse by Phuket standards.
Bampot, 19/1 Moo 1, Lagoon, Phuket, Thailand, 093-586-9828. Open daily 5-10:45pm.
The century-old building's original mosaic-tiled floor and walls adorned with '50s tea and coffee poster girls and pictures of Thai monarchs will take your mind off the somewhat hefty prices. The line-up of traditional Phuket dishes include moo hong—steamed pork with pepper and garlic, B250 ($10)—gaeng nue poo bai cha ploo, a dish of crab meat with curry and coconut milk, B400-600 ($16-24) and pad sataw kapi goong, stir fried sataw with shrimps, B250-350 ($10-14).
Raya Restaurant, 48 New Dibuk Rd., Talat Yai, Phuket, 07-621-8155. Open daily 10am-10pm.
From classics to new inventions, this fine-dining establishment has left its mark in 12 countries. The Phuket branch of the restaurant, which is also coupled as a marriage venue and cooking school, offers Thai cuisine in a Chinese colonial-style mansion that was built in 1903. Tucked away in the heart of old town, it's worth the find for the old recipes like the forgotten beef curry and luxury dishes like the foie gras in tamarind sauce.
Blue Elephant, 96 Krabi Rd., Muang, Phuket, 07-635-4355. Open daily 9am-10:30pm.
With an intricate degustation menu to appease the taste buds of serious seafood lovers, the restaurant offers dishes including the sous vide cooked octopus salad and fried U.S.A. scallops with foie gras, chilly jam and truffle pumpkin sauce as part of the special menu for the table (B3,500). There are also several starters, pastas and other main courses to choose from. Overlooking the Andaman Sea, the trendy aesthetics pair well with the award-winning wine being offered.
Acqua Restaurant, 324/15 Prabaramee Rd., Kalim Bay, Patong, Phuket, 07-661-8127. Open daily 5:30-11pm.
Hovering over the Andaman Sea and Kata Noi Beach, this elegant joint sits on multi-level terraces, overlooking Phuket's beauty. The chefs display a combination of traditional Thai cuisine with a blend of international classics at the elegant beach escape. Find your table piled high with grilled duck breast in red curry sauces or wild seabass and experience the textures with one of many wines offered from the extensive wine cellar.
Mom Tri's Kitchen, 12 Kata Noi Rd., 07-633-3568. Open daily 7am-11:30pm.
Phuket's creative Thai-fusion restaurant promises table-side hotplate theatrics and internationally-inflected Thai cuisine, encompassing everything from foie gras miang kham (betal leaf wraps) to lemongrass lamb chops with papaya salsa. Inside, the natural, airy interiors incorporate hanging orchids and a large wood slab center table, while outside a large garden space allows for alfresco dining, with a barbecue terrace that's ideal for large groups.
Suay Restaurant, 177/99 Si Sunthon, Phuket, 093-339-1890. Open daily 3-10pm.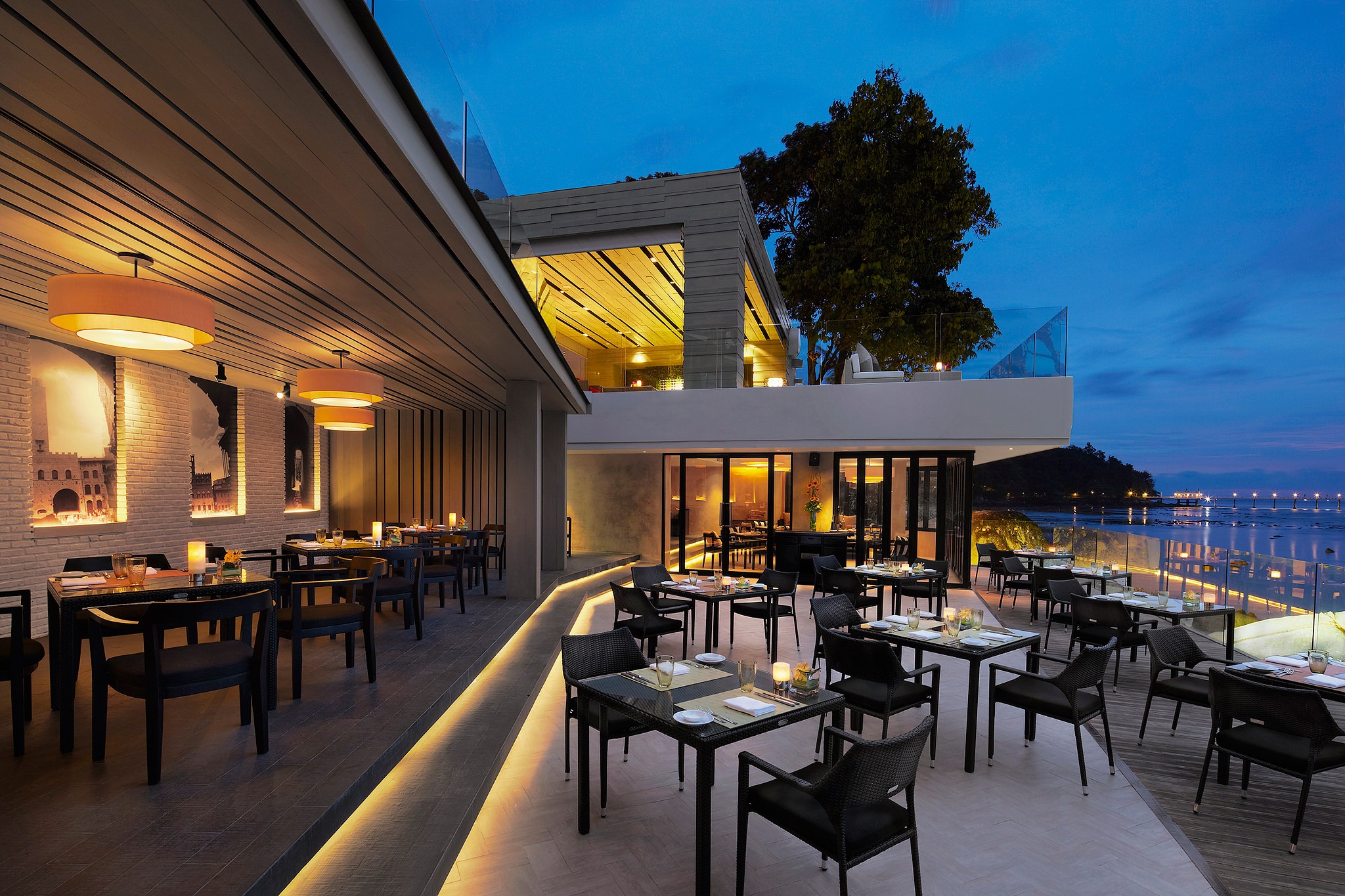 The sleek black tables on a breath-taking deck amid the ocean waters provide a tropical modern paradise for those venturing for Italian food. From bruschetta appetizers to Italian-made pizza and gelato for dessert, the restaurant juts out from the four-star Amari Hotel on the southern portion of Patong Beach. The international wine selection includes tasteful bottles hailing from Chile, New Zealand, Australia, America, France, to name a few, along with several star wines from Italy.
La Gritta, 2 Muen-ngern Rd., 07-634-0112. Open daily 10am-midnight.
This Japanese restaurant sits on the top floor of the stunning Sri Panwa resort and takes its name from the Japanese phrase for skolling your drink, ikki nomi. But don't take that to heart, since the produce here is definitely worth savoring—think super-premium Hida wagyu beef and fatty otoro tuna. No, this is not seafood caught locally, but it is some of the finest ingredients in the world.
Baba Iki, Sri Panwa, 88 Moo 8, Sakdidej Rd. Vichit, Phuket, 076-371-000. Open daily 10am-10pm
This hip, reinvented shop-house in Phuket Town bursts with creativity, whether it's the hand-drawn artworks the line the walls or the artfully presented plates. The ever-rotating menu cherrypicks influences from across the globe, meaning you might taste things like crisp seabass tempura, 48-hour short ribs with Thai chimichurri sauce or even German-style stuffed pasta. Keep an eye out for recurring chef's table events for which tickets are known to go fast.
Surf & Turf By Soul Kitchen, 115 Phang-nga Rd., Phuket, 089-104-7432 . Open Mon-Sat 3-7:30pm